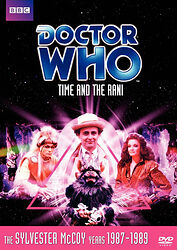 Edition:
US (DVD)
Released:
June 2011

Publisher:
BBC Video
Format:
1 x DVD
Owned:
Buy:
Cover blurb:
Violently wrenched out of time, the TARDIS is brought crashing down onto the planet Lakertya by the villainous Rani. Caught within the maelstrom, the Doctor is forced to regenerate.
Imprisoning the Doctor in her stronghold, the Rani seizes upon his vulnerable state. By impersonating his friend Mel, the Rani deceives the unwitting Doctor into helping her achieve her audacious plan.
Just what is she up to? Why has she enslaved Albert Einstein and a host of geniuses? And as an asteroid composed of Strange Matter approaches Lakertya, can a weakened Doctor save the universe when he has little idea of who he really is?
DVD EXTRAS INCLUDE:
Audio Commentary by actors Sylvester McCoy (the Doctor) and Bonnie Langford (Mel), and writers Pip and Jane Baker
Last Chance Saloon Cast and crew reflect on working at a critical time when Doctor Who was given its last chance (28 mins)
7D FX Visual effects featurette (12 mins)
Helter Skelter Interview with creators of Doctor Who's first CGI title sequence (9 mins)
Lakertya (2 mins)
Hot Gossip Kate O'Mara (the Rani) recalls the fun of working with friends (2 mins)
On Location Guy Michelmore from BBC Breakfast Time interviews Sylvester McCoy, Bonnie Lnagford and Kate O'mara (4 mins)
Blue Peter Janet Ellis introduces Sylvester McCoy (1 min)
Photo Gallery (8 mins)
PDF materials: Radio Times listings
Production Notes Subtitle Option
Digitally remastered picture and sound quality
Originally transmitted: September 7 - 28, 1987