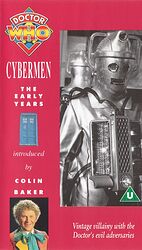 Edition:
UK (VHS)
Released:
July 1992

Publisher:
BBC Video
Format:
1 x VHS PAL
Owned:
Buy:
Cover blurb:
The Cybermen: Ruthless, logical and immune to disease, with a disposition as cold as the South Pole where the Doctor first encountered them. From their first appearance on 8th October 1966, the Cybermen established themselves as firm favourites with Doctor Who viewers everywhere. Not surprisingly they became a familiar adversary throughout the show's history. Now Colin Baker, Doctor No. 6, recalls the early years of the Cybermen terror with interviews, clips and full episodes.
Interviews
ROY SKELTON recalls menories of his work on the programme over the years as one of the Cybermen voices.
MORRIS BARRY, director of several adventures including the recently discovered TOMB OF THE CYBERMEN, reminisces about those early days.
WENDY PADBURY — Zoe, the astrophysicist companion of Patrick Troughton in the early series — tells of her audition for the part and what working on the programme was really like nearly 25 years ago.
Clips
The first appearance of the Cybermen in THE TENTH PLANET (Episode 1), plus their first words in Episode 2,
THE TOMB OF THE CYBERMEN and
THE INVASION
Plus
Four Full Episodes
THE MOONBASE (Episode 2 & Episode 4) and
THE WHEEL IN SPACE (Episode 3 & Episode 6)
With thanks to the Museum of the Moving Image, London