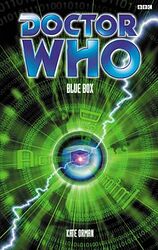 Edition:
UK (original paperback)
Released:
March 2003

Publisher:
BBC Books
ISBN:
0-563-53859-7
Format:
paperback
Owned:
Buy:
Cover blurb:
What lurks in the electronic labyrinth?
'A timely look at a vital issue of today... you will never look at a computer the same way.' — Phreakphest
A dramatic true story of hi-tech crime
The Nineteen-Eighties; as we enter the Age of the Personal Computer, the newborn 'Internet' spreads across America, and the computer invasion enters our homes. Across the technological frontier, an incredible war begins between the criminals and their savvy opponents.
A brilliant young programmer, a beautiful college student, and a mysterious hacker known only as 'The Doctor' join forces to combat an electronic threat fallen into the hands of a notorious computer outlaw.
Respected computer journalist Charles 'Chick' Peters was an eyewitness as these unlikely heroes fought their hi-tech skirmishes across the nation's vunerable capital — and inside the world of the computer. Blue Box is the compelling true story of a secret computer project that could literally change the way you think.