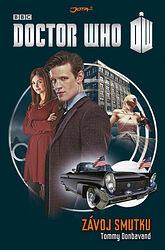 Edition:
Czech Republic (hardback)
Title:
Závoj Smutku
Released:
September 2014

Publisher:
Jota
ISBN:
978-80-7462-568-8
Format:
hardback
Owned:
Note: The Czech title translates as "Veil of Mourning". This was the very first Doctor Who book to be published in the Czech language. More details at the publisher's website. Followed by a Czech translation of Dalek Generation.
Cover blurb:
23. LISTOPAD 1963
Britský kultovní seriál Doctor Who se zapsal do Guinessovy knihy rekordu jako nejdéle vysílaný televizní sci-fi seriál. Dockal se uvedení na ceských obrazovkách a nyní prichází v knižní podobe.
Vydejte se na cestu spolu s tajemným humanoidním mimozemštanem, který si ríká Doktor a cestuje casoprostorem vw své vesmírné lodi TARDIS. Závoj smutku nás prenáší do dob dávno minulých — je 23. listopad 1963, den po atentátu na Johna F. Kennedyho. Tváre mrtvých se vynorují odevšad, promlouvají a vykrikují... a derou se do našeho sveta. Dokáže se Doktor ponorit do svého smutku, aby zachránil lidstvo?