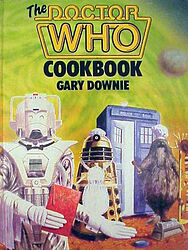 Edition:
UK (hardback)
Released:
May 1985

Publisher:
WH Allen
ISBN:
0-491-03214-5
Format:
hardback
Owned:
Buy:
Cover blurb:
The Macra Terror lived off a steady diet of toxic gas, the Ogri fed on blood, and even the fifth Doctor was known for his fondness for celery.
However, we humans need something a little more substantial, and Gary Downie has raided the cookbooks of the show's stars to produce a mouth-watering selection of recipes guaranteed to delight your taste-buds.
From all corners of time and space come such exotic delights as Time Lady Tzaziki and Castrovalvan Kebabs, plus Mena's Tachyonic Sauce and Patrick Troughton's Vegetable Soup with Dalek Krotons!
And for the adventurous there is also Barry Lett's mysterious unnamed dish from Venus, which lists among its ingredients Blim Tree Worms and Grated Snadge...
Bon appetit!