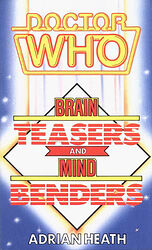 Cover blurb:
So you think you know about Who?
Adrian Heath's compilation of a multitude of puzzles and quizzes based on the ever popular BBC TV Doctor Who series will really put your knowledge to the test.
But don't expect straightforward questions and answers — Adrian's puzzles have all the versatility of a fully functioning TARDIS and assume a variety of mystifying guises!
You can have hours of fun and amusement becoming a veritable Doctor Who Mastermind.