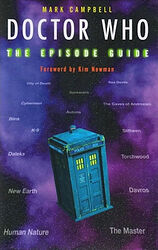 Edition:
UK (2nd hardback)
Title:
The Episode Guide
Released:
April 2010

Publisher:
Pocket Essentials
ISBN:
978-1-84243-348-5
Format:
hardback
Owned:
Buy:

| | | |
| --- | --- | --- |
| | | (Unable to fetch price) |
Note: Retitled Doctor Who: The Episode Guide & now contains a foreword by Kim Newman. Covers up to the end of the Tenth Doctor era.
Cover blurb:
Now officially the most popular drama on television, Doctor Who has seen many ups and downs in its long and colourful history. From humble beginnings on 23 November 1963 to its cancellation in 1989 and eventful resurrection in 2005, the show has always been a quintessential element of British popular culture.
The spine-chilling theme music, the multi-dimensional Tardis, the evil metallic Daleks and the ever-changing face of the Doctor himself have become trademarks of the programme's witty, eclectic house style. Over the years, Doctor Who has embraced such diverse genres as science fiction, horror, westerns, history, romance, adventure and comedy — but has never strayed from its first and most important remit: telling damn good stories.
Eleven Doctors, a multitude of companions, and a veritable cornucopia of monsters and villains: Doctor Who has it all. 'The children's own programme which adults adore,' said Gerard Garrett in The Daily Sketch newspaper back in the early 1970's — and it's still the perfect summation of the programme's unique charm.
This new, updated edition of the best-selling Pocket Essential guide puts all of the first ten doctors under the microscope with facts, figures and opinions on every Doctor Who story ever televised. There are sections on TV, radio, cinema, stage and internet spin-offs, novels and audio adventures, missing episodes, and an extensive website listing and bibliography.