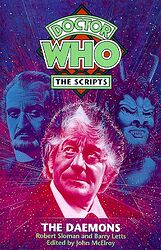 Cover blurb:
Devil's End...
An ancient archaeological barrow.
A White Witch warning of impending doom.
A trio of formidable foes — Azal, Boc and... The Master!
The Doctor and Jo Grant, his assistant, are soon to come face-to-face with an evil almost as old as time itself. Read the complete, classic script of a story voted by fans the best ever Doctor Who, together with fascinating background and technical information.