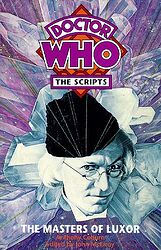 Note: Unlike Titan's other script books from the 80s/90s, this is unique since The Masters of Luxor was never broadcast — the script was intended to be the second story of the fledgling Doctor Who series in late 1963, but ultimately scrapped (and replaced by Terry Nation's The Daleks). An audio adaptation of this story was released in 2012.
Cover blurb:
The wait is over...
A dark and silent planet.
A magnificent crystal edifice, perched on a mountainside.
A legion of dormant robots, waiting for the signal to bring them back to life.
The Doctor and his granddaughter Susan, and their reluctant companions, Ian and Barbara, are about to unleash forces which will threaten their very survival.
Read for the first time the complete script of this magnificent, but regrettably never produced, Doctor Who story.