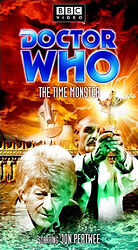 Note: This title is only available separately in the US. In the UK & Australia it was released as part of the Master box set in 2001.
Cover blurb:
A new device called TOMTIT — the Transmission Of Matter Through Interstitial Time — is being developed at the Newton Institute at Wootton. TOMTIT is the creation of the enigmatic Professor Thascales. A "life-long pacifist," Thascales refuses on principle to dine with a party of invited observers that includes Brigadier Lethbridge-Stewart of UNIT.
The Doctor soon suspects that TOMTIT is another of the Master's dastardly schemes. This time the Master hopes to use the device to gain control over Kronos — the legendary chronovore that feeds on time itself.
The secret of TOMTIT's power is a fragment from an ancient trident-shaped crystal used by the High Priests of Atlantis. When TOMTIT proves too weak to harness Kronos, the Master journeys back to ancient Atlantis to retrieve the main crystal. While UNIT forces are kept busy repelling invaders the Master has sent from past eras, the Doctor and Jo pursue the Master back to the dangerous last days of the doomed civilization.