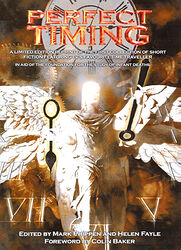 Edition:
UK (2nd paperback)
Released:
April 2000

Publisher:
Unknown
ISBN:
None
Format:
paperback
Owned:
Buy:
Note: Limited edition of 150 copies. This edition is perfect-bound (i.e. similar binding to most standard paperback books) and contains 2 additional stories not in the 1st (spiral-bound) edition.
Cover blurb:
Following on from the success of the first, wire-bound printing of "Perfect Timing" back in 1998/9 and the follow-up volume, "Perfect Timing 2" in a perfect bound format, we have released this new, strictly limited edition of the original collection as a companion volume. A little slice of history — not the first fan-produced collection of stories, but certainly one of the most ambitious!
And all for charity!
"Perfect Timing" contains contributions from fan and professional writers and artists, celebrating the continuing adventures of TV's favourite, and oldest, time traveller. All 35 of the original stories are reproduced for this reprint, with the addition of two stories omitted from the first edition for reasons of length.
This edition of Perfect Timing has been produced in a one-time-only print run of 150 copies.
Contributors:
Colin Baker, James Ambuehl & Laurence Cornford, Jon Andersen, Peter Anghelides, Tom Beck, Daniel Ben-Zvi, Daniel Blythe, Damon Cavalchini, Mark Clapham & Jim Smith, Paul Cornell, Charles Daniels, Paul Ebbs, Helen Fayle, Stephen Graves, Sarah Hadley, Mags L. Halliday, Craig Hinton, David J. Howe, Paul Leonard, Steve Lyons, Paul Magrs, Stephen Marley, David A. McIntee, Ian McIntire, Jonathan Morris, Kate Orman & Jon Blum, Lance Parkin, Mark Phippen, Gary Russell, Trina L. Short, Nathan Skreslet, Rob Stradling, Lee Sullivan, Kathryn Sullivan, Alan Taylor, Susannah Tiller, Keith Topping, Erin Tumilty and Nick Walters.
This is an unofficial publication produced and distributed solely in return for donations to the Foundation for the Study of Infant Death.
Contents:
Same as first edition, but with the following two additional stories:
Time Ruins by Sarah Hadley
What if We Went to Italy by Tom Beck