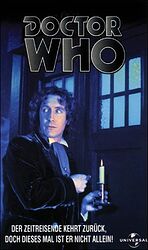 Edition:
Germany (VHS)
Released:
January 1997 (rental only)
January 1998 (sell-through)

Publisher:
Universal
Format:
1 x VHS PAL
Owned:
Buy:
Note: Uncut version. Dialogue dubbed into German. One of the very few Doctor Who videos which was released in the once-common pattern of "rental only" to start with, then "sell-through" (i.e. available for purchase) at a later stage. The rental & sell-through releases have identical front covers and contents, but different spine, back covers and catalogue numbers.
Cover blurb:
Es ist der 31. Dezember 1999.
Tief im Herzen von San Franciscos Chinatown ist ein Teenager auf dem besten Wege, sein Leben in einem Kugelhagel zu verlieren. Doch die Schüsse verfehlen ihr Ziel und treffen einen geheimnisvollen Fremden, der plötzlich aus dem Nichts erscheint.
Die Ärztin Grace Holloway tut alles, was in ihrer Macht steht, doch weder kann sie den Schwerverletzten retten, noch begreift sie die mysteriösen Dinge, die um ihn herum geschehen. Wer ist dieser sonderbare Reisende mit den zwei Herzen? Wie konnte sein Körper einfach verschwinden? Und wer ist dieser eigenartige Mann, der sie um Hilfe
bittet und behauptet, der gerade Verstorbene und gleichzeitig ein Zeitreisender namens "Der Doctor" zu sein?
Irgendwo in San Francisco befindet sich ein anderer Zeitreisender ebenfalls auf der Schwelle zwischen Leben und Tod. Um zu überleben, muß "Der Meister", der älteste Feind des "Doctors", die Macht über dessen regenerierten Körper erlangen. Als er mit der Zeitmaschien des Doctors experimentiert, droht der Welt um Punkt Mitternacht des 31.12.1999 der
Untergang. Während die Menschheit sich mitten in den Festtagsvorbereitungen für die Jahrtausendwende befindet, beginnt für Grace ein verzweifelter Wettlauf gegen die Zeit, um den "Doctor" zu retten — und die ganze Menschheit.
Doctor Who ist ein phantastisches Science Fiction Abenteuer mit außergewöhnlichen Special Effects; mit Paul McGann, Eric Roberts, Daphne Ashbrook und Silvester McCoy in den Hauptrollen.