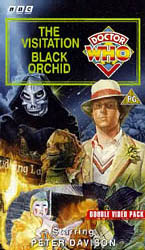 Edition:
UK (VHS)
Released:
July 1994

Publisher:
BBC Video
Format:
2 x VHS PAL
Owned:
Buy:
Cover blurb:
THE VISITATION
"Their infection will kill every living thing... our rats will ensure there are no survivors, the final visitation..."
Something is very wrong in 17th Century England.
The shadowy figure of Death stalks the forests, terrifying the local people. Behind the chaos, fugitive alien life forms called Terileptils lurk. Stranded on Earth, they have seized one of the local houses, murdering its inhabitants.
But just what do they want? The Doctor must discover the answer — and fast. For as events unfold, he finds he too is looking death in the face, not to mention the threat of mass genocide...
Originally transmitted 15 - 23 February 1982
BLACK ORCHID
Landing in Cranleigh Halt in England in 1925, the Doctor and his companions receive a warm reception from the local inhabitants and an invitation to a masked ball at the house of Lady Cranleigh and her son Charles.
It is there that Nyssa discovers her startling resemblance to Charles' fiancée Ann. Then events take a more sinister turn when Ann is attacked and two servants murdered. Will the Doctor and his companions stand accused of murder?
Originally transmitted 1 - 2 March 1982