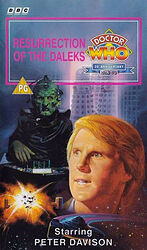 Edition:
UK (VHS)
Released:
November 1993

Publisher:
BBC Video
Format:
1 x VHS PAL
Owned:
Buy:
Cover blurb:
"Once the Doctor is exterminated I shall build a new race of Daleks... we shall be even more deadly!"
Captured in a Time Corridor, the Doctor and his companions are forced to land on 20th Century Earth, diverted by the Doctor's oldest enemy — the Daleks.
It is here that the true purpose of the Time Corridor becomes apparent: after 90 years of imprisonment, Davros, the ruthless creator of the Daleks, is to be liberated to assist in the resurrection of his army.
But not even the Daleks forsee [sic] the poisonous threat presented by their creator. Indeed, who would suspect Davros of wanting to destroy his own Daleks — and why?
Only the Doctor knows the truth. But will he be capable of descending to Davros' level of evil in order to stop him?
Originally transmitted 8 February - 15 February 1984, this two part adventure starring Peter Davison is a welcome addition to BBC Video in this, the programme's 30th Anniversary year.