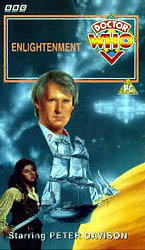 Edition:
UK (VHS)
Released:
February 1993

Publisher:
BBC Video
Format:
1 x VHS PAL
Owned:
Buy:
Cover blurb:
"I control the game, the Doctor's destiny. And soon he will be dead."
(The Black Guardian)
When the White Guardian appears uttering a cryptic warning of imminent danger — "The winner takes all", the Doctor is puzzled. Then the TARDIS materialises on a pseudo-Edwardian sailing ship in the middle of a space race run by the mind-reading Eternals. The first prize? Enlightenment — ultimate wisdom to gain one's heart's desire. But as the Black Guardian's evil mesh draws tight, it looks as though the Doctor may not live to cross the finishing line...
Originally transmitted from 1 - 9 March 1983, this four part adventure starring Peter Davison concludes the Black Guardian Trilogy begun with Mawdryn Undead (BBCV 4874) and Terminus (BBCV 4890).