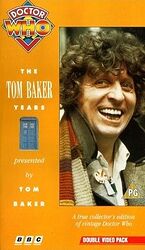 Edition:
UK (VHS)
Released:
September 1992

Publisher:
BBC Video
Format:
2 x VHS PAL
Owned:
Buy:

| | | |
| --- | --- | --- |
| | | (Not currently available) |
Cover blurb:
On 28 December 1974, with an enigmatic smile, Tom Baker assumed the mantle of Gallifrey's most famous offspring, the Doctor. The coat and long striped scarf which he adopted later were to become his trademarks in the seven years of the Tom Baker era which followed.
Unlike his predecessors, all of Tom Baker's episodes still exist in the BBC Archives. A magnificent selection is included here along with Tom Baker's spontaneous reactions to the excerpts themselves — "warts and all".
So sit back and reminisce with him for almost three hours worth of classic Doctor Who on this special double BBC Video.
Included are excerpts from:
Robot • The Ark in Space • The Sontaran Experiment • Revenge of the Cybermen • Terror of the Zygons • Pyramids of Mars • The Seeds of Doom • The Hand of Fear • The Talons of Weng-Chiang • The Sunmakers • Underworld • The Pirate Planet • The Androids of Tara • Destiny of the Daleks • The Horns of Nimon • Full Circle • The Keeper of Traken • Shada
and many more!