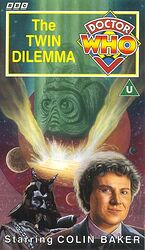 Edition:
UK (VHS)
Released:
May 1992 (Woolworths exclusive)
February 1993 (wide release)

Publisher:
BBC Video
Format:
1 x VHS PAL
Owned:
Buy:
Note: Initial release was exclusive to UK retailers Woolworths. Released widely in February 1993.
Cover blurb:
"Something's wrong. Something's very wrong. Oh, no. Has it come to that? Regenerate, yet unregenerate... I am a living peril to the Universe."
Is the Doctor really losing his mind? After his fifth regeneration his behaviour certainly seems to point that way. Having tried to strangle Peri, he's landed the Tardis on the asteroid Titan 3 determined to pursue the quiet life of a hermit. But the giant dome on the horizon seems set to shatter his peace. Just who are its mysterious inhabitants? What is their connection to the kidnapping of the twins Romulus and Remus, famed for their mathematical genius? And where are the giant Gastropods?
Originally transmitted 22-30 March 1984, this four part adventure heralds the beginning of the Colin Baker era of Doctor Who.