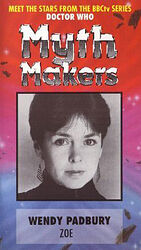 Edition:
UK (2nd VHS)
Released:
January 1994 (Exact date unconfirmed)

Publisher:
Reeltime Pictures
Format:
1 x VHS PAL
Owned:
Buy:

| | | |
| --- | --- | --- |
| | | (Not currently available) |
Note: Extended edition — approx running time 55 minutes.
Cover blurb:
"I've always said, 'What a shame ZOE started off quite strong and then became a screamer.' Well I take it all back!"
When we approached WENDY PADBURY to arrange an updated MYTH MAKERS release, she told us she couldn't really think of anything else to say... After two hours in conversation with NICHOLAS BRIGGS, the problem was going to be what to cut out!
WENDY PADBURY first appeared in DOCTOR WHO in the late sixties, playing the diminutive cat-suited computer expert ZOE. Now she reveals all about playing ZOE HERRIOT and working alongside PATRICK TROUGHTON and FRAZER HINES, not to mention CYBERMEN, ICE WARRIORS and QUARKS. WENDY also talks about the 1974 West End stage play DOCTOR WHO AND THE DALEKS IN SEVEN KEYS TO DOOMSDAY in which she played one of the Doctor's companions.
Featuring location footage from the stage of SUPERTED and a guest appearance by SPOTTY himself, this MYTH MAKERS even tells us which CYBERMEN design WENDY prefers.
Excellent!