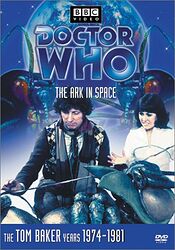 Edition:
US (standard DVD)
Released:
August 2002

Publisher:
BBC Video
Format:
1 x DVD
Owned:
Buy:
Note: Contains two additional extras not present on the UK or Australian releases: firstly the introductory narration recorded by actor Howard Da Silva in the 1970s to introduce syndicated versions of The Ark in Space in North America. Also "Who's Who", which consists of short text biographies of the main cast.
Cover blurb:
The Fourth Doctor's first trip in the TARDIS brings him, with Sarah Jane and a very skeptical Harry Sullivan, many thousand years into the future to Nerva, a space station in Earth's orbit.
The Doctor is amazed to discover that Nerva is nothing less than an ark for the human race. Having evacuated Earth when solar activity threatened all life on the planet, these few hundred survivors have been drifting in suspended animation for thousands of years.
Even more perplexing is the discovery that someone has sabotaged Nerva's vital systems. The Doctor reactivates the systems, and one by one, the human race begins to awake from its enforced deep sleep. The future of humankind appears secure until the Doctor learns that the larvae of the Wirrn, a hostile insect race, are also aboard.
DVD EXTRAS INCLUDE:
Commentary by actors Tom Baker and Elisabeth Sladen and producer Philip Hinchcliffe
Exclusive interview with designer Roger Murray-Leach
New CGI model footage and 3D Ark schematic
Pop-Up Production Notes
Unused Title Sequence and 16mm model footage
Original BBC trailers and News Report
Photo Gallery
Who's Who