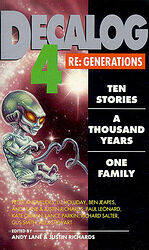 Note: This book was released after Virgin lost their Doctor Who publishing licence, so unlike Decalogs 1-3, this book doesn't feature the Doctor at all: instead the stories are based on the ancestors & family of New Adventures companion Roz Forrester.
Cover blurb:
Following in the tradition of three previous highly successful and acclaimed short story collections, Decalog 4 pushes back the boundaries of the imagination with a new series of ten interlinked tales.
Here for the first time is the complete future history of a remarkable family, the Forresters. Each tale chronicles a different episode in the life of the clan — from their humble roots in twentieth-century South Africa, and all through their inexorable rise to control of the galaxy-spanning Earth Empire a millennium later.
As always, the editors have assembled a dazzling array of writing talent, from up-and-coming TV script writers to acclaimed science-fiction authors. And, as before, there are the usual contributions from talented new writers.
Contents:
Second Chances by Alex Stewart
No One Goes to Halfway There by Kate Orman
Shopping for Eternity by Gus Smith
Heritage by Ben Jeapes
Burning Bright by Liz Holliday
C9H13NO3 by Peter Anghelides
Approximate Time of Death by Richard Salter
Secret of the Black Planet by Lance Parkin
Rescue Mission by Paul Leonard
Dependence Day by Justin Richards and Andy Lane