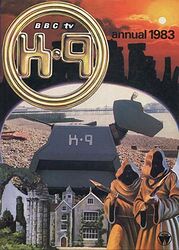 Rating:
5.5 (4 votes) Vote here
Review:
very good Read more (1 in total)
Released:
September 1982

Publisher:
World Distributors
ISBN:
0-7235-6661-5
Format:
hardback
Owned:
Buy:
Note: Features K-9 and Sarah Jane Smith. This was the only K-9 annual ever published — the pilot for the proposed Doctor Who spinoff series K-9 and Company had been screened the previous December, so this annual was presumably published to cash in on K-9's raised profile and the hope that the pilot would be picked up for a full series. Of course, the latter never happened (and the annual presumably sold poorly) hence no further K-9 annuals were forthcoming. An electronic (PDF file) version of this annual was included as an extra on the K-9 Tales DVD.
Audio readings of 4 out of the 6 stories from this annual were included in the K-9 Audio Annual — namely, Powerstone, The Shroud of Azaroth, Hound of Hell and The Monster of Loch Crag.
Cover blurb:
If you've enjoyed this Annual, why not look out for our Dr. Who Annual? It's on sale now.
Contents:
STORIES
Powerstone
The Shroud of Azaroth
Hound of Hell
The Monster of Loch Crag
Horror Hotel
The Curse of Kanbo-Ala
FEATURES
Introducing K9
Meet Sarah Jane Smith
Can You Follow Instructions?
The Shape of TV To Come
Professor Rubik's Cube
Talking of Technology
K9's Quiz
What is the Secret of the Standing Stones?
Myth or Monster?
UFOs — Is This the Answer?
Once Upon a Time, There Was a Robot
Ghostly Goings On