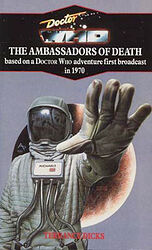 Edition:
UK (2nd paperback)
Released:
March 1991

Publisher:
Target
ISBN:
0-426-20305-4
Format:
paperback
Owned:
Buy:
Note: Same ISBN as previous paperback edition.
Cover blurb:
The Doctor sat staring at the TV set like a man hypnotised. 'That sound... I've heard it before...'
Seven months after leaving Mars, the Probe 7 ship has not returned to Earth. And the rescue ship returns — poisoned with radiation and apparently abandoned. Whatever piloted it back to Earth is not human...
The Doctor must negotiate with an alien intelligence for the return of its ambassadors — or face the destruction of the Earth...
The Ambassadors of Death, featuring Jon Pertwee as the Doctor, was written by David Whitaker and broadcast in 1970. This adaptation is by Terrance Dicks, who was script editor of Doctor Who for five years and who has written more than sixty novelizations of the television stories.
Doctor Who — The Ambassadors of Death has recently been broadcast on BSB television.