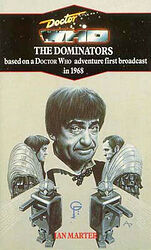 Edition:
UK (2nd paperback)
Released:
February 1991

Publisher:
Target
ISBN:
0-426-19553-1
Format:
paperback
Owned:
Buy:

| | | |
| --- | --- | --- |
| | | (Unable to fetch price) |
Note: Same ISBN as previous paperback edition.
Cover blurb:
The Doctor hesitated. 'Well... It kills people...' 'Fire it!' Rago commanded.
Dulkis. A planet where war has been outlawed and where the Island of Death, once used as an atomic test site, has served as a dire warning to generations of Dulcians of the horrifying consequences of war.
But an alien race prepares to take advantage of their pacifism; the whole planet is threatened with annihilation by the Dominators and their robot slaves...
The five episodes of The Dominators, first broadcast in 1968 and featuring Patrick Troughton in the role of the Doctor, were written by Mervyn Haisman and Henry Lincoln under the shared pseudonym 'Norman Ashby'. This book, originally published in 1984, is by the late Ian Marter, who novelized several Doctor Who stories and who played the role of TARDIS traveller Harry Sullivan from 1974 to 1975.