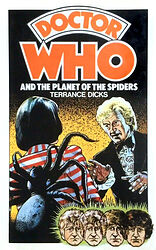 Edition:
UK (hardback)
Released:
October 1975

Publisher:
Allan Wingate
ISBN:
0-85523-052-5
Format:
hardback
Owned:
Buy:

| | | |
| --- | --- | --- |
| | | (Not currently available) |

| | | |
| --- | --- | --- |
| | | (Not currently available) |

| | | |
| --- | --- | --- |
| | | (Not currently available) |
Note: Two variant covers exist: The original with a red logo and a 1977 reprint with an orange logo (pictured).
Cover blurb:
No blurb on back cover. The inside flaps read as follows:
'It's happening, Brigadier! It's happening!' Sarah cried out. The Brigadier watched, fascinated, as the lifeless body of his old friend and companion, DOCTOR WHO, suddenly began to glow with an eerie golden light... The features were blurring, changing... 'Well, bless my soul,' said the Brigadier. 'WHO will he be next?'
Read the exciting adventure of DOCTOR WHO's third incarnation, which brings him face-to-face with the all-powerful eight-legs, the SPIDERS! When the Spiders begin to appear at a meditation centre in the South of England, only the Doctor realises the importance of the blue crystal which he stole from their planet a long time ago. And now they have come, utterly ruthless, to reclaim it...
Terrance Dicks was born in 1935 and educated at East Ham Grammar School and Downing College, Cambridge.
After a spell in advertising the author became a full-time scriptwriter, first for radio, then television where for five years he was Script Editor of the 'Doctor Who' series. He is now a freelance author and writes many of the highly successful 'Doctor Who' books.
Terrance Dicks lives in Hampstead, London, is married and has three children. He is an obsessive reader, likes 'messing about in boats' and is cultivating an interest in mysticism and meditation.