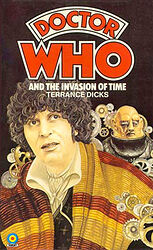 Edition:
UK (paperback)
Released:
February 1980

Publisher:
Target
ISBN:
0-426-20093-4
Format:
paperback
Owned:
Buy:
Cover blurb:
A traitor to the Time Lords?
Can the Doctor really be in league with the evil Vardans, spearheading a treacherous invasion of his home planet, Gallifrey?
Or is he playing a deadly double game, saving the Time Lords by appearing to betray them?
But the Vardans themselves are only pawns in the game, and the Doctor faces an old and deadly enemy, as he battles to foil the Invasion of Time.
'Terrance Dicks is a skilful professional story-teller... He has deftly recaptured the programme's popular blend of hectic menace and humourous self-mockery.'
- British Book News