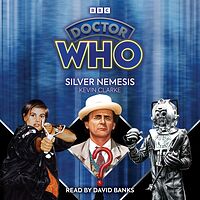 Description: Audio reading of Kevin Clarke's 1989 novelisation.
Cover blurb:
David Banks reads this exciting classic novelisation of a TV adventure for the Seventh Doctor and Ace, featuring the Cybermen
"This range of classic Target audiobooks continues to go from strength to strength..."
Doctor Who Magazine
Launched into space 350 years ago, a meteor is returning to Earth. Inside it waits Nemesis, a silver statue made of the living metal validium, the most dangerous substance in the Universe.
Three factions await the statue: the neo-Nazi de Flores and his stormtroopers; Lady Peinforte, who saw Nemesis exiled in 1638, and the advance part of a Cyberman invasion force.
Meanwhile, the Doctor and Ace are in Windsor...
David Banks, who played the Cyber-Leader in the BBC TV series during the 1980s, reads Kevin Clarke's novelisation of his own 1988 TV serial.