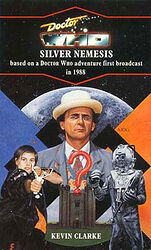 Edition:
UK (2nd paperback)
Released:
September 1993

Publisher:
Target
ISBN:
0-426-20340-2
Format:
paperback
Owned:
Buy:

| | | |
| --- | --- | --- |
| | | (Unable to fetch price) |
Note: Same ISBN as previous edition.
Cover blurb:
'It's all over, Ace. I've lost, I can only surrender. The Cybermen will have the Nemesis.'
Launched into space 350 years ago, a meteor is returning to Earth. Inside it waits Nemesis, a silver statue made of the living metal validium, the most dangerous substance in the universe. Evil powers await the statue's return: the neo-Nazi de Flores and his stormtroopers: Lady Peinforte, who lost Nemesis in 1638; and the advance party of a Cyberman invasion force. But only one person has the power to activate Nemesis: the statue's creator, the Doctor.
In this story, the Cyberleader was played on screen by David Banks, who is the author of the recently published Doctor Who New Adventures novel Iceberg.