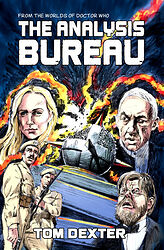 By:
Tom Dexter
Released:
June 2022 (Exact date unconfirmed)

Publisher:
Candy Jar Books
ISBN:
Unknown
Format:
paperback
Owned:
Buy:
Note: A special Lethbridge-Stewart spin-off short story collection, raising money for Ukraine.
Cover blurb:
The Analysis Bureau does not exist. Ask any questions about it, and the same answers always greet you. There's no trace of any department matching that name in any branch of Government, only speculation and wild rumours.
At the beginning of the 1960s, some conspiracy theorists even started to claim that there was a village, once the home to an entire community, abandoned during the Second World War due to flooding. They said it's where experiments and tests are being carried out. Some even claim that the Analysis Bureau used the village as a base of operations, and that there were underground bunkers built way beneath the rural façade of cottages, shops and even a village green.
Of course, those who got anywhere near the truth disappeared just as quickly as the people who asked too many questions, because they were the ones who refused to believe that there was no such thing as the Analysis Bureau.