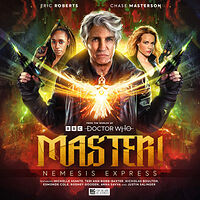 Description: Audio drama box set featuring Eric Roberts' incarnation of The Master, as seen in the 1996 Doctor Who TV movie. Sequel to Master!
Cover blurb:
Step aboard the Kairos, a recreational cruiser which traverses the Time Vortex itself.
Vienna Salvatori is on a mission, and must make her way up the serpentine vehicle, from the crime-ridden rear segments, through the enclosed compartments of the mega-rich, all the way to front of the ship to face the man who controls it all... the Master!!
Nemesis Express by Robert Whitelock
Capture the Chronovore! by Lizbeth Myles
Passion by Robert Valentine