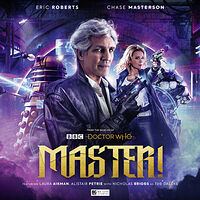 Description: Audio drama box set featuring Eric Roberts' incarnation of The Master, as seen in the 1996 Doctor Who TV movie. Followed by Master! Nemesis Express.
Cover blurb:
Abandoned in the Vortex, the Master's lost incarnation is about to be thrown a lifeline.
Earth rebuilds in the aftermath of invasion, and power rests with those who innovate. Genius Lila Kreeg makes a deal with the devil to see her dreams fulfilled.
As the Master returns, there are those — like Vienna Salvatori — who wish to hunt him, and those upon whom he wishes vengeance himself...

FAUSTIAN BY ROBERT VALENTINE
PREY BY ROBERT WHITELOCK
VENGEANCE BY MATT FITTON