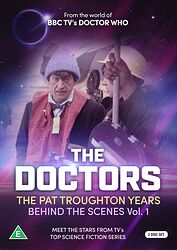 Description: DVD compilation containing the previously released Myth Makers interviews Shaun Sutton, Victor Pemberton, Derrick Sherwin, The Innes Lloyd Team and Flight Through Eternity - The Sixties Volume 1 and Volume 2.
Cover blurb:
This is the definitive set of interviews with the production team who brought DOCTOR WHO to life and sent you "behind the sofa"!
These six documentaries are the best in-depth interviews with SHAUN SUTTON (Head of Drama), VICTOR PEMBERTON (Script Editor) and DERRICK SHERWIN (Script Editor) ever undertaken! Plus special productions featuring INNES LLOYD (Producer), PETER BRYANT (Producer), MICHAEL CRAZE (Ben) and also actors BERYL BRAHAM, ANTHONY COLBY, MARTIN CORT, JOHN GREENWOOD, GEORGE LEYTON, RAYMOND LLEWELLYN, SONIA MARKHAM, CHRISTOPHER ROBBIE, PETER ROY, RALPH WATSON and REG WHITEHEAD!
Presented by "voice of the Daleks" NICHOLAS BRIGGS.
For all DOCTOR WHO fans, this special collector's edition is over 5 hours of pure nostalgia, which will give you a whole new insight into the making of your favourite science fiction series!

EXCLUSIVE INTERVIEWS
WITH THE PRODUCTION TEAM FROM DOCTOR WHO!