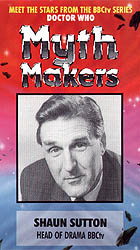 Edition:
UK (VHS)
Released:
December 1998

Publisher:
Reeltime Pictures
Format:
1 x VHS PAL
Owned:
Buy:
Cover blurb:
"Patrick Troughton was one of the best DOCTOR WHOs and was a marvellous choice."
During his long and varied career, SHAUN SUTTON has been an actor, writer, stage manager, producer, director and ultimately Head of BBCtv Drama for 12 years.
He was there when William Hartnell left the series and was instrumental in casting Patrick Troughton as his successor. Following that momentous decision, he then chose Jon Pertwee!
He was even there when Tom Baker joined the programme...
He and Sidney [sic] Newman oversaw what is now called "the golden age of television" and it was certainly the golden age of DOCTOR WHO.
SHAUN gives NICHOLAS BRIGGS his unique insight into DOCTOR WHO and television drama in general.