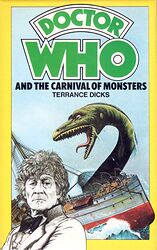 Edition:
UK (1st hardback)
Released:
January 1977

Publisher:
Allan Wingate
ISBN:
0-85523-151-3
Format:
hardback
Owned:
Buy:

| | | |
| --- | --- | --- |
| | | (Not currently available) |

| | | |
| --- | --- | --- |
| | | (Unable to fetch price) |

| | | |
| --- | --- | --- |
| | | (Not currently available) |
Cover blurb:
No blurb on back cover. Blurb on the inner dustjacket flaps is as follows:
The Doctor and Jo land on a cargo ship crossing the Indian Ocean in the year 1926.
Or so they think.
Far away on a planet called Inter Minor, a travelling showman is setting up his live peepshow, watched by an eager audience of space officials...
On board ship, a giant hand suddenly appears, grasps the Tardis and withdraws. Without warning, a prehistoric monster rises from the sea to attack...
What is happening? Where are they? Only the Doctor realises, with horror, that they might be trapped...
Terrance Dicks was born in 1935 and educated at East Ham Grammar School and Downing College, Cambridge.
After a spell in advertising the author became a full-time scriptwriter, first for radio, then television where for five years he was Script Editor of the 'Doctor Who' series. He is now a free-lance author and writes many of the highly successful 'Doctor Who' books, as well as an adventure series for boys and girls about the Canadian Mounted Police Force.
Terrance Dicks lives in Hampstead, London, is married and has three children. He is an obsessive reader and likes 'messing about in boats'.