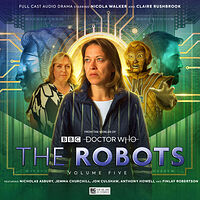 Cover blurb:
THE ENHANCEMENT BY AARON DOUGLAS
The Enhancement chips are the next stage of personal security for the citizens of Kaldor — and following her experiences with identity theft, no-one is keener to get involved with them than Tula.
Liv, however, has other concerns. The Sons of Kaldor have been suspiciously quiet. But is this something to be worried about? Or is the true threat much closer to home?

MACHINES LIKE US BY PHIL MULRYNE
Kador Arris of the founding families used to work for the Company — but now he's on the outside and demanding greater accountability.
His populist plans are gaining momentum — but also gaining him enemies. A terrifying conspiracy is underway — and only Liv and Tula are in a position to stop it.

KALDOR NIGHTS BY TIM FOLEY
Kaldor Nights is the most popular reality TV series on the planet... and it now has two new people on set.
As danger approaches outside, Liv and Tula are there to ensure the show must go on. Because it's just TV, isn't it? There can't be anything sinister going on... can there?