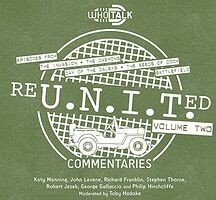 Description: Features alternative audio commentaries for selected episodes from The Invasion, The Dæmons, Day of the Daleks, The Seeds of Doom and Battlefield.
Cover blurb:
The ever reliable military force known as UNIT had their beginnings in the Patrick Troughton era of Doctor Who, before becoming a mainstay during Jon Pertwee's time on the show.
In celebration of this facet of the programme, members of the cast and crew reunite to share their memories on a selection of classic episodes, including instalments of The Invasion, The Daemons, Day of the Daleks, The Seeds of Doom and Battlefield.
Moderated by actor, comedian and cult television enthusiast Toby Hadoke, this release features Katy Manning (Jo Grant), John Levene (Sergeant Benton), Richard Franklin (Captain Yates), Stephen Thorne (Azal), Robert Jezek (Sergeant Zbrigniev), George Gallaccio (Production Unit Manager) and Philip Hinchcliffe (Producer).

These CDs can be enjoyed on their own or played in conjunction with the official BBC DVD release.
These commentaries contain no BBC copyrighted elements and do not feature audio from the episodes themselves. Contains adult language.