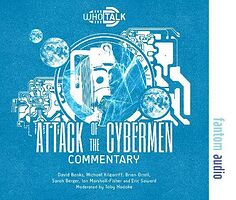 Cover blurb:
Attack of the Cybermen opened Doctor Who's twenty-second season, and ushered in with it the first full run of stories for the Sixth Doctor, and a change of episode length. The story itself combined such diverse elements as Halley's Comet, the sinister Lytton, the Cybermen, and a new race of aliens, the Cryons, as well as having links back to the Sixties serials The Tenth Planet and The Tomb of the Cybermen.
More than thirty years on, cast and crew reunite to share their memories of the production in a brand new commentary for both episodes. Additionally we present a bonus alternative track for episode two.
Moderated by actor, comedian and cult television enthusiast Toby Hadoke, this release features David Banks (Cyber Leader), Michael Kilgarriff (Cyber Controller), Brian Orrell (Cyber Lieutenant), Sarah Berger (Rost), Ian Marshall-Fisher (Cyberman) and Eric Saward (Co-Writer & Script Editor).

These CDs can be enjoyed on their own or played in conjunction with the official BBC DVD release.
These commentaries contain no BBC copyrighted elements and do not feature audio from the episodes themselves.