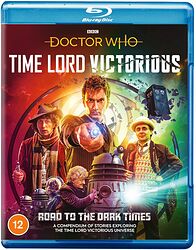 Description: Blu-ray compilation of previously-released Doctor Who TV stories to tie in with the Time Lord Victorious multi-platform saga. Includes Planet of the Daleks, Genesis of the Daleks, The Deadly Assassin, State of Decay and The Curse of Fenric from the classic series, and The Runaway Bride and The Waters of Mars from the new series.
Cover blurb:
No cover information available yet.
Help wanted! Do you own this item? Please help make this site more complete by emailing me details of the back cover blurb. Thanks!