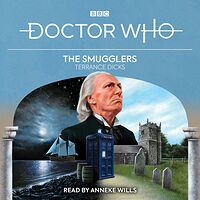 Note: Audio reading of Terrance Dicks' 1988 novelisation. Not to be confused with the TV audio soundtrack of the same story, released in 2002.
Cover blurb:
Anneke Wills reads this exciting novelisation of a classic First Doctor TV adventure set in Cornwall
"This range of classic Target audiobooks continues to go from strength to strength..."
Doctor Who Magazine
On the 17th Century Cornish coast, villainous pirates roam the seas searching for treasure, while the townspeople have turned to smuggling, wheeling and dealing in contraband.
The TARDIS materialises in this wild and remote place, and the Doctor and his new companions, Ben and Polly, find themselves caught up in the dubious activities of the locals.
When the Doctor is unwittingly given a clue to the whereabouts of the treasure, the pirates are determined to extract the information — whatever the cost...
Anneke Wills, who played Polly in the BBC TV series, reads Terrance Dicks's complete and unabridged novelisation of a 1966 TV serial by Brian Hayles, first published by Target Books in 1988.
PLEASE NOTE: Some of the terminology used in the story reflects the era in which it was written.