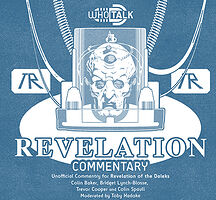 Note: Unofficial audio commentary for the Revelation of the Daleks DVD. A special edition is exclusively available from the Fantom website which includes an extra disc containing commentary from Eric Saward and William Gaunt.
Cover blurb:
Colin Baker's first full season as The Doctor came to a climactic end with the explosive and dark thriller, Revelation of the Daleks. With a variety of colourful characters, and some stylish direction, it is one of the best remembered serials of the 1980's.
More than thirty years on, for the first time Colin Baker is joined by fellow cast to share their memories of the production in a brand new commentary for both episodes. Additionally we present a bonus interview with director. [sic]
Moderated by actor, comedian and cult television enthusiast Toby Hadoke, this release features Colin Baker (The Doctor), Bridget Lynch-Blosse (Natasha), Trevor Cooper (Takis), Colin Spaull (Lilt) and Graeme Harper (Director).

These CDs can be enjoyed on their own or played in conjunction with the official BBC DVD release. These commentaries contain no BBC copyrighted elements and do not feature audio from the episodes themselves.