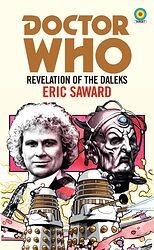 Edition:
UK (paperback)
Released:
March 2021

Publisher:
BBC Books
ISBN:
978-1-78594-436-9
Format:
paperback
Owned:
Buy:
Note: Target-style paperback edition, published as part of the new Target novelisations range.
The opening chapter of this novelisation, along with the other 6 new Target novelisations published in 2021, were included in Doctor Who and the Library of Time, a paperback book given away for free with Doctor Who Magazine issue 561 in February 2021. (Not listed here as I don't list "freebies" — items must be available for purchase by themselves to qualify for listing on this website.)
Cover blurb:
'Beware the hands that heal.'

The Doctor and Peri land on the planet Necros to visit the funerary home Tranquil Repose — where the dead are interred and the near-dead placed in suspended animation until such time as their conditions can be cured.
But the Great Healer of Tranquil Repose is far from benign. Under his command, Daleks guard the catacombs where sickening experiments are conducted on human bodies. The new life he offers the dying comes at a terrible cost — and the Doctor and Peri are being lured into a trap that will change them forever.
This novel is based on a Doctor Who story which was originally broadcast from 23 - 30 March 1985.
Featuring the Sixth Doctor as played by Colin Baker and his companion Peri.