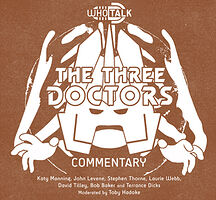 Cover blurb:
To celebrate Doctor Who's tenth anniversary, it was decided to reunite all three incarnations of The Doctor to battle Omega, a nemesis from the legends of Gallifrey.
Still a favourite adventure to this day, members of the cast and crew reunite to share their memories of the production in a brand new commentary for all four episodes, and a bonus alternative commentary for episode three.
Moderated by actor, comedian and cult television enthusiast Toby Hadoke, this release features Katy Manning (Jo Grant), John Levene (Sergeant Benton), Stephen Thorne (Omega), Laurie Webb (Mr Ollis), David Tilley (Production Assistant), Terrance Dicks (Script Editor) and Bob Baker (Writer).