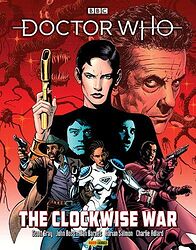 Note: Compilation of comic strips from Doctor Who Magazine, primarily featuring the Twelfth Doctor, but also containing bonus strips with the First, Fourth and Fifth Doctors.
Cover blurb:
COLLECTED MULTI-DOCTOR COMIC STRIPS — VOLUME 2
The final, epic Twelfth Doctor adventure is here, from the pages of DOCTOR WHO MAGAZINE!
The Doctor and Bill Potts are pulled into a deadly conflict as the Time Lords come under attack — but the Doctor's adversary is one of his closest friends! A dark piece of the Doctor's history is exposed as the secrets of the Time War are revealed!
Also: the classic saga THE CYBERMEN is collected at last, now in full colour for the first time!
Plus: six stories starring the First, Fourth and Fifth Doctors from the pages of the DOCTOR WHO YEARBOOKS:
A RELIGIOUS EXPERIENCE
REST AND RE-CREATION
THE NAKED FLAME
BLOOD INVOCATION
STAR BEAST II
JUNK-YARD DEMON II
And: an in-depth 13-page commentary section where the comics creators reveal the secrets behind the stories! Featuring never-before-published art, photos and character designs!
AN ESSENTIAL COLLECTION FOR FANS OF DOCTOR WHO AND GREAT BRITISH COMICS!