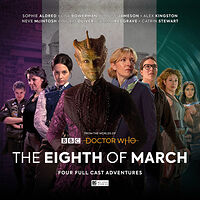 Description: A box set of audio dramas starring female Doctor Who characters in 4 stories written by female authors, to mark International Women's Day on 8th March. The characters featuring in the stories include Ace, Bernice Summerfield, the Paternoster Gang, River Song, Leela, Kate Stewart and Osgood.
Cover blurb:
Scattered through all of space and time, there are many women whose paths have crossed that of the Doctor. Some were once fellow TARDIS travellers, some staunch allies defending the Earth, and one was the Doctor's wife...
From Victorian London, to an intergalactic convention, from the offices of UNIT, to an impossible university library — on the 8th of March, four very different adventures will unfold.

EMANCIPATION BY LISA McMULLIN
THE BIG BLUE BOOK BY LIZZIE HOPLEY
INSIDE EVERY WARRIOR BY GEMMA LANGFORD
NARCISSUS BY SARAH GROCHALA