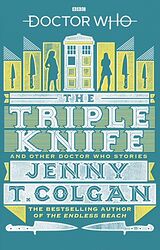 Description: Collection of 5 Jenny Colgan's short stories, all previously published in other volumes: The Triple Knife from The Legends of Ashildr, Picnic at Asgard from The Legends of River Song, Into the Nowhere and A Long Way Down from Time Trips, and All The Empty Towers from The Scientific Secrets of Doctor Who.
Cover blurb:
SHORT STORIES THAT ARE BIGGER ON THE INSIDE...
Join the women of the Whoniverse for five thrilling Doctor Who adventures by Sunday Times bestselling author Jenny T. Colgan.
In 'The Triple Knife', Ashildr, a young Viking girl, has been brought back to life after a brave death. Now immortal, she has lived longer than anyone ever should — and lost more than she can even remember.
'Picnic at Asgard' follows the mysterious River Song who, married to a Time Lord, has to keep track of what she did and when — even if it may not have happened to her yet.
In 'Into the Nowhere', Clara and the Eleventh Doctor land on an unknown alien planet that's not on any maps or star charts. What could be so terrible here that its existence has been erased? She also joins the Twelfth Doctor in two further short adventures, 'All The Empty Towers' and 'A Long Way Down'.