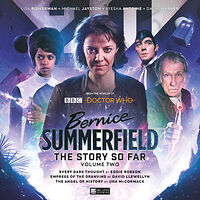 Description: One of two three-story Bernice Summerfield full-cast audio box sets released to celebrate the archaeologist and Doctor companion's 20th anniversary. Follow-up to Volume 1.
Cover blurb:
One remarkable archaeologist. Three remarkable adventures.
The Valeyard! The Drahvins! The Doctor!
Celebrating 20 years of Bernice Summerfield at Big Finish with three new full-cast dramas from different periods of her life.

EVERY DARK THOUGHT BY EDDIE ROBSON
EMPRESS OF THE DRAHVINS BY DAVID LLEWELLYN
THE ANGEL OF HISTORY BY UNA McCORMACK

Includes an hour-long documentary talking to the people behind Bernice Summerfield.