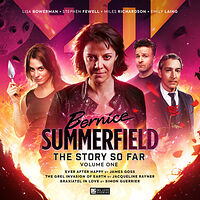 Description: One of two three-story Bernice Summerfield full-cast audio box sets released to celebrate the archaeologist and Doctor companion's 20th anniversary. Followed by Volume 2.
Cover blurb:
One remarkable archaeologist. Three remarkable adventures.
Time travel! Earth invaded! A wedding!
Celebrating 20 years of Bernice Summerfield at Big Finish with three new full-cast dramas from different period of her life.
EVER AFTER HAPPY BY JAMES GOSS
THE GREL INVASION OF EARTH BY JACQUELINE RAYNER
BRAXIATEL IN LOVE BY SIMON GUERRIER
Includes an hour-long documentary talking to the people behind Bernice Summerfield.