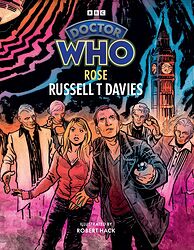 Edition:
UK (illustrated hardback)
Released:
23 November 2023

Publisher:
BBC Books
ISBN:
978-1-78594-840-4
Format:
hardback
Owned:
Buy:

| | | |
| --- | --- | --- |
| | | (Unable to fetch price) |
Note: Deluxe illustrated edition, in the same manner as The Daleks novelisation released in 2022.
Cover blurb:
No blurb on back cover. Inside cover flaps read as follows:
'NICE TO MEET YOU, ROSE. RUN FOR YOUR LIFE!'
In a lair somewhere beneath central London, a malevolent alien intelligence is plotting the end of humanity. Shop window dummies that can move — and kill — are taking up key positions, ready to strike.
Rose Tyler, an ordinary Londoner, is working her shift in a department store, unaware that this is the most important day of her life. She's about to meet the only man who understands the true nature of the threat facing Earth, a stranger who will open her eyes to all the wonder and terror of the universe — a traveller in time and space known as the Doctor.
Rose is the story that brought Doctor Who back for the 21st century — and Russell T Davies's novelisation, based on his original script and episode broadcase on 26 March 2005, set the standard for new-era Target novelisations. Now, with illustrations by acclaimed artist Robert Hack, this is Rose as you've never seen it before...
Featuring the Ninth Doctor as played by CHRISTOPHER ECCLESTON, and his companion Rose Tyler as played by BILLIE PIPER.

RUSSELL T DAVIES is one of the UK's foremost writers of television drama, creating ground-breaking shows such as It's a Sin, Years and Years, Queer As Folk, Bob & Rose, Casanova, Cucumber, The Second Coming, and A Very English Scandal for BBC One. He was Head Writer and Executive Producer of Doctor Who when it returned to the BBC in 2005 until 2010, during which time he wrote many of the new series' most memorable episodes. Russell returned as the Doctor Who showrunner in 2022 — the first episodes of his second tenure will be the shows [sic] 60th anniversary specials. In 2008, he was awarded an OBE for services to drama. He divides his time between Cardiff and Manchester.
ROBERT HACK has been drawing Doctor Who art since he was 5 years old and professionally since 2008, when he began creating cover art for Doctor Who comics. Robert is also the artist of the hit horror comic Chilling Adventures of Sabrina, and painted the opening titles for the Netflix adaptation of the same name. His modern pulp aesthetic has been applied to Archie Comics, Star Wars, X-Files, Army of Darkness, Elvira, James Bond, Dirk Gently, Mars Attacks, Sherlock, Goosebumps, Blade Runner, Stranger Things and more.