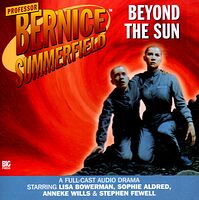 Edition:
UK (2nd CD)
Title:
Professor Bernice Summerfield: Beyond the Sun
Released:
December 1999 (Exact date unconfirmed)

Publisher:
Big Finish
ISBN:
1-903654-34-3
Format:
2 x CD
Owned:
Buy:

| | | |
| --- | --- | --- |
| | | (Not currently available) |

| | | |
| --- | --- | --- |
| | | (Unable to fetch price) |

| | | |
| --- | --- | --- |
| | | (Unable to fetch price) |
Note: Re-release with new cover art to match the subsequent releases in the Bernice Summerfield range. (Same ISBN as the original CD edition)
Some of the text on the back cover blurb appears to have been carelessly copy & pasted from the previous release Oh No It Isn't! with the result that Miranda (this story's villain, played by Sophie Aldred) is described as Benny's pet tabby cat!
Cover blurb:
Professor Bernice Summerfield: 26th century archaeology professor, and tutor at St. Oscar's University on the planet Dellah. Prone to getting involved in adventures, scrapes and general derring-do armed only with her wits, cunning and a flask of brandy! Aged about 35ish, but frequently says she's younger. Odd that...
Miranda: Bernice's pet tabby cat. Her constant companion, shoulder to cry on and convenient excuse, as in: 'Oh sorry. I need to be somewhere else because a certain someone requires feeding'. Has not possessed the ability to speak English before. But then again, he's never grown much taller than fourteen inches either.
Jason Kane: 20th-century guy, kidnapped by aliens and taken to the future where he met and married Bernice. Then they got divorced. Spends most of his time these days in bars, getting involved with very dodgy deals, criminal low-lifes and other undesirables. Far more intelligent and resourceful than he gives himself credit for.