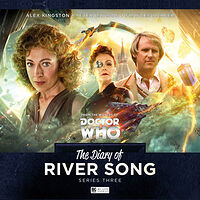 Cover blurb:
THE LADY IN THE LAKE by NEV FOUNTAIN
A REQUIEM FOR THE DOCTOR by JACQUELINE RAYNER
MY DINNER WITH ANDREW by JOHN DORNEY
THE FURIES by MATT FITTON
When River Song goes shopping for a whole load of unclaimed loyalty points, she uncovers secrets linked to her tangled past.
The Doctor arrives, and the mystery deepens. He is already exploring the universe with another companion — someone River knows nothing about.
Madame Kovarian has been busy, and this time she will not accept failure...
PLUS: A BONUS BEHIND-THE-SCENES INTERVIEW DISC!