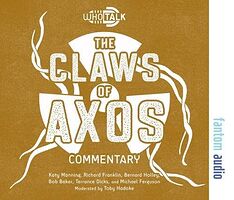 Note: DVD commentary for The Claws of Axos. A signed special edition of this release bundled with Adventures in Time Commentaries is exclusively available from the Fantom Films website, including a bonus disc with additional commentaries.
Cover blurb:
The Claws of Axos was part of Doctor Who's eighth season, broadcast in 1971. With the Third Doctor and his UNIT family firmly established battling the evil machinations of The Master, The Claws of Axos is a colourful and explosive tale.
More than forty years on, cast and crew from the serial reunite for these special new commentaries on all four episodes, including an alternative track for the last episode.
Moderated by actor, comedian and cult television enthusiast Toby Hadoke, this release features Katy Manning (Jo Grant), Richard Franklin (Captain Yates), Bernard Holley (Axon Man), Bob Baker (Writer), Terrance Dicks (Script Editor) and Michael Ferguson (Director).
These CDs can be enjoyed on their own or played in conjunction with the official BBC DVD release.